Heartbreaker for Doglovers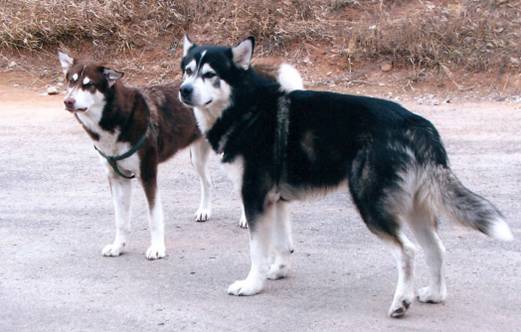 These two beautiful Malamutes were stolen from a vehicle in the parking lot of Walmart at Ukiah. According to a blog post designed to find the dogs,
…two men in a black pickup truck and an RV were seen via parking lot surveillance video taking the dogs from their owner's truck and driving away together. Video did NOT capture a good look at license plates. Check of other nearby video feeds in process…. Credible sightings near Santa Rosa / Coddingtown (between Ukiah and San Francisco). Dogs appeared to be with two men (18-20 years old & possibly homeless) who cannot handle/control the dogs. There may have been an incident with a smaller dog getting injured.
The thieves appear to be heading south on 101. The owner is asking everyone to repost and pass on this information in hopes the dogs can be recovered.
__________
Photo from the site.