SoHum–The Redheaded Stepchild of Humboldt County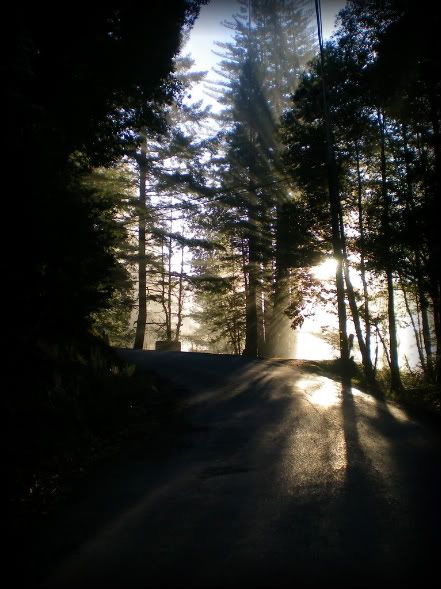 For those of you who live here in SoHum this rant will be a familiar waltz on a rough but known dance floor.  Rural dwellers throughout California will nod and keep time to a tune they know (even while wishing the band would play something different.)  But for those of you from cities and towns this is just to let you know what rural dwellers face.
Yesterday, I spent some time talking to a thoughtful, intelligent gentleman from one of Humboldt's northern population areas.  He was informed about much of Humboldt and he was caring but he was unaware of rural residents most common complaint—we send out our tax money and we get almost nothing back.
Roads,  trash collection, mail delivery, schools, fire departments, medical services, and law enforcement are areas in which Southern Humboldt residents, especially the most rural ones, are brutally under-served.
Let's look at Salmon Creek road right now.  Potholes gape on every turn.  Others group together to form car-frame destroying traps .  One large pothole tries to eat vehicles just above the intersection with Thomas road.  Avoiding it requires knowledge that it is there and clever maneuvering.  It stretches across a third of the one lane road. Other holes merely attempt vehicular carslaughter.  In avoiding these potholes, residents must swerve onto the other side of the road increasing the chance of deathly accidents. Oh, yes, I know there are potholes on roads in town.  But I don't think urban dwellers or even suburban grasp the depths potholes will sink to before they are patched in rural areas.  Our road hasn't been paved fully in living memory and hasn't even gotten a chip seal (gravel pressed into oil) in over 35 years.  This road serves well over 300 families by my count.  And there are many equally ill-maintained roads here in the country. The state and the county take money from gas taxes to fill gaping holes in their budgets but rural infrastructure is crumbling.
Besides potholes, down trees will mostly be chainsawed up by locals and occasional slides often are pushed aside by local heavy equipment owners so their neighbors can get through.  Rural residents are used to taking care of themselves and mostly we don't complain.  And we don't mind to a certain extent.  We know the county is broke and we're willing to pull our share but, it's not just roads that are under cared for here.
For all intents and purposes, there is no rural trash collection or mail delivery.  Fair enough, it is expensive to go out rural routes.  I don't expect the same services as urban dwellers. I maintain a pickup to haul in my trash and I pay for a box to get my mail.
Our local community even maintains a wonderful little school that we take no tax money for.  We support it ourselves so our kids don't have to be driven 40 minutes down and 40 minutes back to town every day because, of course, there are no buses that come up here or even close to up here.  All of Southern Humboldt maintains their own community volunteer fire departments.  We don't ask for help from the government–federal, state or county. (Though CalFire is wonderful).  And then we have to pay exorbitant fire insurance rates [rural residents follow this link–its important] and homeowner policies because we live so far from "real" fire stations even though we maintain high standards.  My family, for instance, has a brick home.  We mow grass back 100 feet, the required amount. We maintain a pond with a pump, a generator dedicated to it and a fire hose as well as a special hydrant right outside our front door.
Of course, medical services are 40 minutes away, at least.  Don't get me wrong, I love our little clinic and hospital but anything bigger than a broken arm and they send you another hour north to Eureka.
Law enforcement mostly seems to make its presence known when they come to take away the only means of making money many rural dwellers have–marijuana.  If there is an emergency, calling for an officer means at a minimum a one hour delay and that is the very best response time one can get.  Mostly, even Garberville residents know that police response will be slower than is actually helpful.
But this whole rant pales next to my real concern.  SoHum dwellers are not represented on juries.  Their values, their concerns, their viewpoints are dismissed as not being worth seeking. Of course,  SoHummers can be on juries but this means driving over 3 hours a day in order to serve.  So in practice, many don't make the drive and many are dismissed because of hardship. The county doesn't think the money to maintain a courtroom a couple times a week down here matters.
Does this really make a difference to the accused?  Jesus Lord, yes!  I once attended a trial where a  grower's defense attorney (Yes, the DEFENSE attorney) portrayed the entire SoHum area as one where officers needed to enter with drawn guns. How could that possibly make a jury composed of urban dwellers look kindly on the defendant?
Issues such as gun ownership while growing marijuana are often misrepresented as actions of violent criminals.  Whereas locals know that guns are possessed as simple tools for the rural resident.  Even neighbors that don't own weapons appreciate those who do–calling on them to dispatch deer who have been seriously injured  and to scare marauding bears, etc. If a grower is being prosecuted for an automatic weapon obviously that is different from a twenty two and SoHum residents (as well as rural residents throughout the county) understand those differences.
Today, I read about a courtroom in Montana.  When asked to prosecute a man for a few grams of marijuana, the jurors staged a revolt and the prosecution had to settle the case. When people are brought before an actual jury of their own community, the nuances of living there, the values of the people there are represented fairly.  That is true democracy.   We used to have our own judge and trials in Garberville where our values could be represented in the courtroom.  We need to work to make that happen again. If rural dwellers must send their taxes to the county, one of the best places the county can help us is by returning a courtroom to the community when needed.
And if the county can't or won't help with that, I'd like to see at least a bit of my property taxes used locally. In fact, filling just one of those car-eating potholes on my road would be a good start.
__________________________
About the photo:A spot on Salmon Creek road that illustrates the reason we live here (it is beautiful) and some of the issues (That corner has eaten many a person's tire because the asphalt has an abrupt sharp drop. If a car meets another here, often they will be forced off the sharp edge pinching the tire and destroying it.)