The Best Article on Marijuana Growers' Concerns I've Seen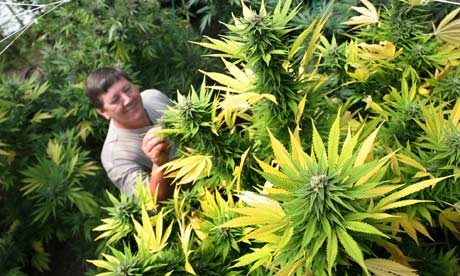 The best article on Marijuana Growers' concerns that I've ever read just came out of Britian's The Guardian today. The subtleties of cannabis farming and laws are discussed in depth. Here is an excerpt featuring Dan Hamburg former congressman for Northern California.
Mendocino is the county for which Dan Hamburg is campaigning to be supervisor – a role akin to county council chairman – with a fair chance of success. His wife, Carrie, joins our discussion. It was her experience of cancer, which pot "made just about bearable", that persuaded Hamburg to position himself behind the cause of medical marijuana.

Hamburg lives on a hillside, past solar panels that power his wooden house, with a thumbed encyclopedia on a lectern in the hallway. He was, from 1992 to 1994, congressman for northern California on Capitol Hill. In the past, his political enemies have endeavoured to use his Californian good looks and intelligent, easy manner against him – as well as his history of campaigning for the decriminalisation of marijuana – but it rarely worked.

"People ask me, 'Are you the growers' candidate?'" he says. "I reply, 'It depends which growers.' I'd like to think I was a candidate for small, legal, medical growers, but not a big indoor growers' candidate. I think marijuana should be grown organically and in the sun, not under grow-lights." An environmental consultant by profession, he says, "I'm against the noise and diesel spills that indoor growing involves. I'm extremely wary of big tobacco taking over the growing of marijuana because the quality would go down. We've heard of tobacco companies preparing to buy land near here, and I sure am not their candidate."

Among Hamburg's opponents, he says, are interests not involved in marijuana growing. "Their problem? That the marijuana crop is so successful, it's driving up wages. People can't pay their labourers the minimum pay, when the pot trimmers are earning upwards of $20 an hour."

Hamburg intends to drive a wedge "between legalisation and decriminalisation. I favour the latter. No, I don't think schoolchildren should smoke it. What we are aiming for is people to be able to grow marijuana, take it to a place where it can be tested for quality, and for the consumer and the grower to benefit."
I was impressed by the story's accuracy, its attention to issues dear to growers and its lack of hype.  Then at the bottom I read "additional reporting done by Carole Brodsky"–ahh, Carole is a well known Ukiah Daily Journal reporter and she is close to marijuana activists in Mendocino. No wonder this piece is authentic.
Photo from the article in the Guardian