Genocide on the North Coast –The Death Campaigns of 1858-1860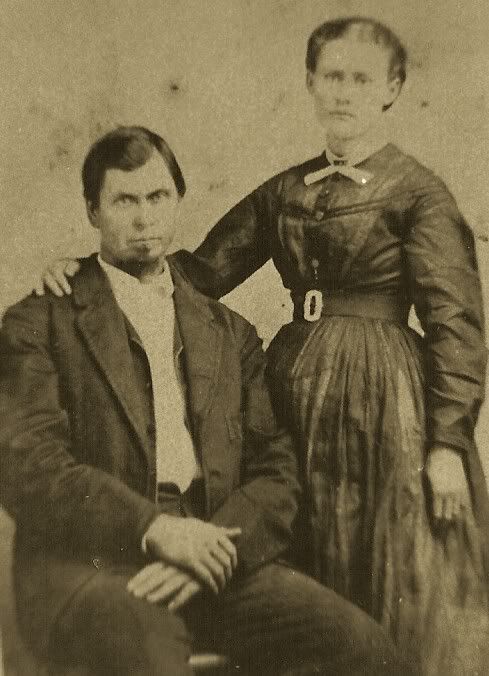 William Marion Cole and his wife, Sarah (Mahurin) Cole
The door was blocked by white men as the people were asleep, not expecting anything to happen. They were not on the lookout. When they found out what was up they began to scatter and was struck down by clubs, knives, and axes, all met the same fate, children, women, and men. I got out and hid in a trash pile. That was how I was saved.
This week's North Coast Journal uses gripping first person accounts to portray the massacres of Native Americans who lived around Humboldt Bay in February of 1860.  This article mentions that a year earlier a group called the Trinity Rangers on Redwood Creek  had responded to the reported deaths of white settlers with an organized militia. According to their commander, General Kibbe, this band of men ended up killing about 200 Native Americans and putting about 1200 more onto the Klamath Reservation.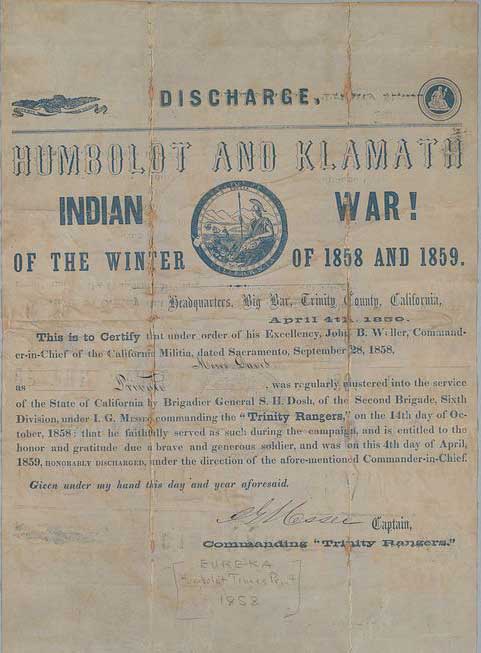 What this article doesn't talk about though is the wider genocide that occurred all over the North Coast during that blood soaked winter of 1859-1860. In fact, the depredations against the native population in the Round Valley area had been so egregious that the governor of California had sent a investigative commission to Mendocino only a few days before the massacre on Indian Island (see Frank H. Baumgardner's Killing for Land in Early California)
I know about it because (as I wrote in an earlier post) my dad's ancestors lived in Sanel (right by Hopland). They were some of the first European settlers there. Like Ernie, I'm really proud of that. I like having my roots so deep in the soil around here. But you might not want to ask me much about that first pioneer. I might pretend I don't hear you. Or, education about local history being what it is, I'd probably just mumble his name and figure you wouldn't know him. And you wouldn't. And education on local history being what it is, you wouldn't know about the group he joined in 1859 either.
I like the group's name. Sounds like a Little League team—The Eel River Rangers. But if someone wanted to print that title on their kids' t-shirts, I'd discourage them. See, the original holders of the name—they were a might unpleasant.
A Native American woman had, as was common at that time in Mendocino and Humboldt, been taken slave by a settler. She escaped to the reservation but, the man followed her and stole her again. The facts get a little muddled but the documents agree the man was killed and his death blamed on her people.
Ostensibly to avenge his 'murder,' but, as becomes apparent when reading the depositions of the settlers, really to rid the area of competitors, a militia of twenty men—those Eel River Rangers–rampaged for five months… and were paid for it by the government. They attacked Rancherias and killed any Native man and many of the women and children they found.
Here is a description of one of a militia's raids as described at the time by the Alta Californian.
"The attacking party rushed upon [the Native Americans], blowing out their brains, and splitting their heads open with tomahawks. Little children in baskets, and even babes, had their heads smashed to pieces or cut open. Mothers and infants shared the same phenomenon … Many of the fugitives were chased and shot as they ran … The children scarcely able to run, toddled towards the squaw for protection, crying with fright, but were overtaken, slaughtered like wild animals, and thrown into piles. … One woman got into a pond hole, where she hid herself under the grass, with her head above water, and concealed her papoose on the bank in a basket. She was discovered and her head blown to pieces, the muzzle of the gun being placed against her skull and the child was drowned in the pond."
Here is short description of another by one of the participants.
"On the first night we found two wounded indians and one old squaw. All of which we killed. On our return home we found another rancheria…we surprised them and killed thirteen bucks and two squaws."
I probably wouldn't mention that little piece of history to you. But, if your family roots go deep into the soil around here, you probably have your own ancestor that you don't care to talk about.
———-
I wrote the above 2 years ago.  My feelings have "matured" since then.  But the stark evil that my ancestors were capable of still shocks me.  Note though that I don't say THEY were evil like Hank does here. I have come to realize that people are capable of a huge range of actions–both good and evil–and to label a person good or evil limits your understanding of them…and of yourself.  Vilifying an act as evil is an important part of growing and understanding and judging right from wrong.  Vilifying people as evil makes it too damn easy to pretend that we are never in danger of walking the dark paths ourselves…
More about today on Indian Island here