The Last Butterfly of Summer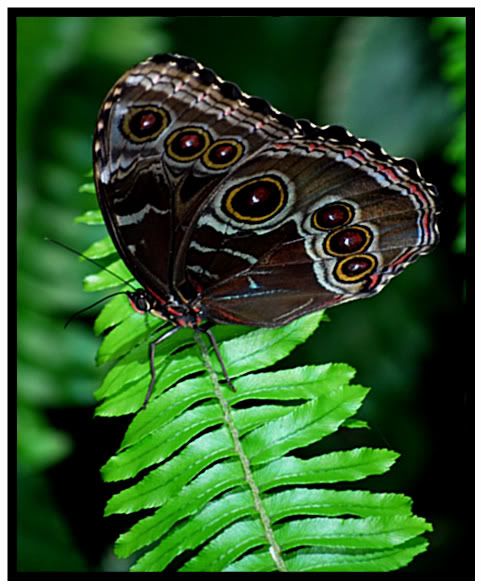 Against the worn black leather jacket that he insists has "street cred," his grandfather's rifle is a branch of rich brown wood matching the forest around him.  His friend let him out of the old Ford at Hayden's Ruff this morning and he planned to meet up with his dad and little brother this afternoon but he's missed the pickup point somehow.  He hasn't seen a buck all day but that doesn't bother him.  He likes the quiet.  The sun warms his shoulders as he winds in and out of the trees.
The path has led him so far into the woods that he knows that if he wants to make camp before dark he'd better hike the crick straight back to the road but he can't make himself hurry.
The trees are thick along the bank.  Firs with trunks he can't reach half way round collapsed across the waterway making walking the banks nearly impenetrable but he winds in and out easily enough.  As he climbs a log, what is probably the last butterfly of Summer balances on a fern and he stops to watch the pulse of its wings.
The short snap of pistol shots to the East catches him off guard as he prepares to leap from one log to the next.  For the first time that day, he stumbles, barely catching himself from falling into the chill water of an autumn stream.  He hesitates.
Pistols are for people.
His heart still thumping from his almost fall, he moves down the stream–branches catching at his rifle and scratching at his face.  "Psssh!" He breathes out with a snort as he smells skunk.
And then, he's surrounded.
All around, as far as he can see, maybe a thousand marijuana plants in pots stretch buds towards the sun.
_____________________________
This is the slightly (very slightly) fictionalized story of my 14 year old son's hunting trip not far from Ruth Lake 2 years ago.  He made it back to camp but sometimes the wild isn't wild enough.
_____________________________________________________________________________
The photo was taken in a butterfly house last summer.