Details Emerge from FBI Raids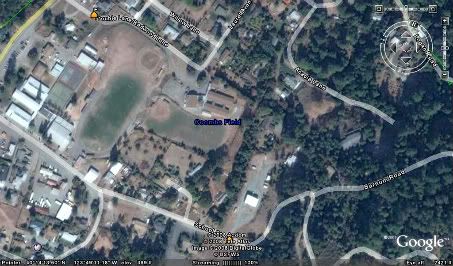 Google Map of Miranda Junior High surroundings
According to a source on the scene, the house raided by FBI and IRS agents Tuesday, June 24 in Miranda, California was located near the old Miranda Jr. High. The alleged indoor grow may therefore have been subject to the stiffer penalties associated with drugs in a school zone.
Approximately 20 agents entered the house, breaking the lock on the front door last week. Agents took items ranging from marijuana plants and grow materials (such as lights and ballasts) to phones, answering machines, land papers, knives, coin collections, and, oddly enough, small personal items such as miner's lights (lights that can be worn around the head and free up the user's hands.)
Raids in the area this week have mainly been centered around some sort of connection with a group of people who purchased property in the Lost River region of Southern Humboldt and Northern Mendocino. Apparently, the house's owner was associated with the Lost River property and thereby the Miranda home became a target of the investigation.
UPDATE: Excellent informative comment on Heraldo's blog explains the corporation of Lost River. Click on this date and time of the comment June 29, 2008 at 11:01 pm