Confusion Hill Foreman Expected to Fully Recover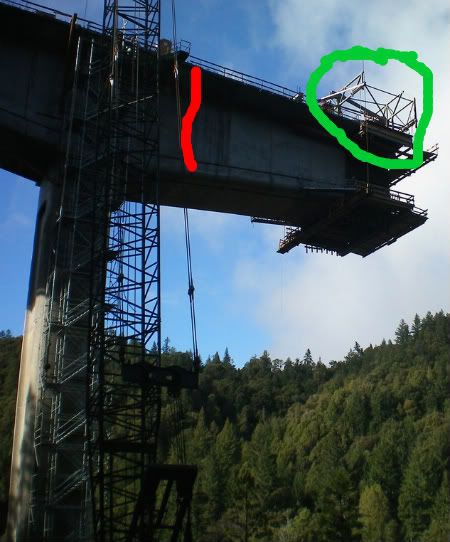 Photo of Pier 2 –the red line shows roughly how far construction had progressed on Pier 3 when the accident occurred. The green circle shows the upper form which is similar to the structure on Pier 3 which collapsed onto its lower deck form yesterday.
Yesterday, a foreman for MCM Construction had to be air lifted to Ukiah Valley Hospital for medical treatment. A form (erroneously reported earlier here as a falsework) on Pier 3 collapsed. The man fell 30 feet to a lower deck. He was severely injured.
Today, doctors believe he will recover. Please take a moment to send good thoughts to him and his family.
Work on the North part of Pier 3 at Confusion Hill has been shut down pending inspection by Cal Osha (California Occupational Safety and Health Administration).
Ed Puchi, general counsel and treasurer for MCM, when contacted for comment asked for the correction listed above and asserted that, in the death of the worker on the Noyo Bridge project, Pacific Coast Steel (MCM's subcontractor on that job), as part of the settlement with the family of the victim and the other worker injured, "indemnified their emloyees." He further stated that no Osha citations were issued against MCM for that accident.