Worker on the Confusion Hill Bypass Severely Injured Today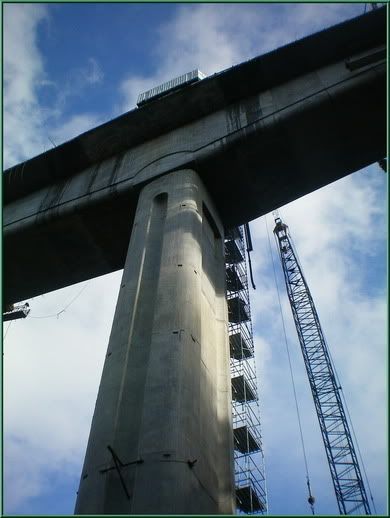 Pier Two of the Confusion Hill Bypass
Today, a temporary structure on the third pier at Confusion Hill collapsed. The employee of MCM Construction, Inc. dropped 30 feet onto a lower deck below. He suffered terrible injuries and had to be taken by helicopter to receive medical attention. The accident happened midday during building of the new multi-million dollar complex designed to circumvent the slide that notoriously comes in each winter closing Highway 101 for weeks at a time.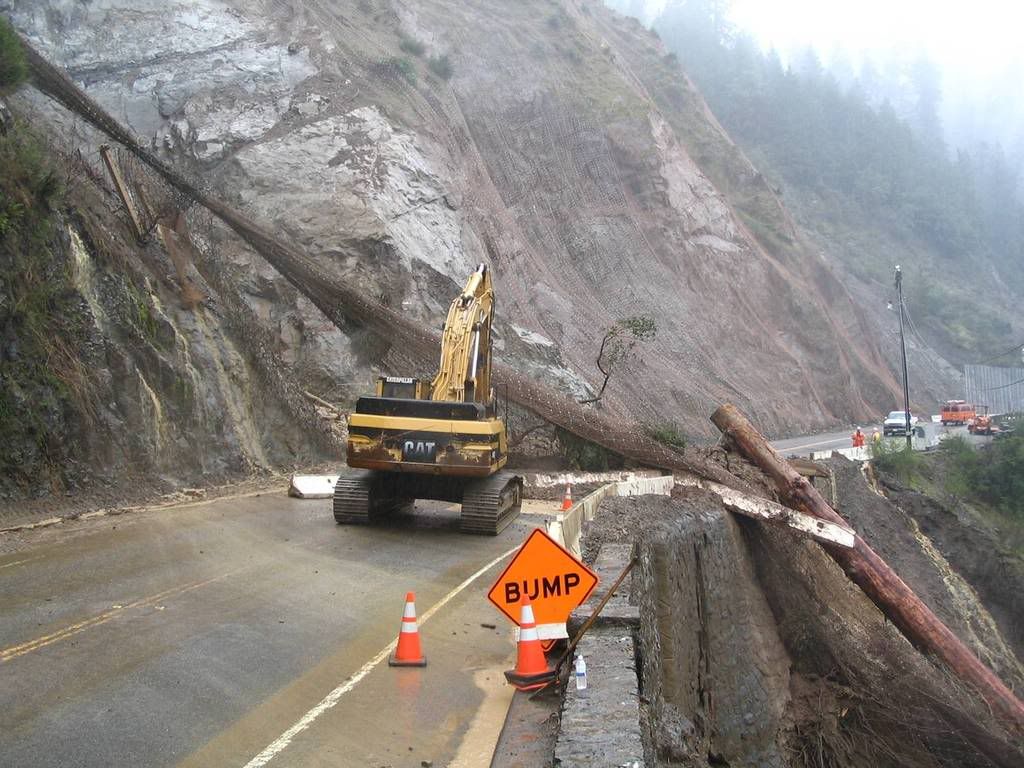 Slide at Confusion Hill is the reason for building the Bypass
MCM has a History of Falsework Collapses
Unfortunately, this is not the first falsework that MCM Construction has had trouble with.
In fact, a suit was filed against the company for a death that resulted from an earlier failure in February 2003 on the Noyo bridge in Fort Bragg. Then, according to the Press Democrat, Julio Quintero, 38, of Fairfield and another employee were working on an iron support structure when it came apart, hurling Quintero 60 feet to his death and injuring the other man.
According to court documents,
MCM subcontracted with Pacific Coast Steel, Inc., to do the steel reinforcing of the bridge. The subcontract provided by the PCS was to furnish all labor and furnish and install all equipment, materials and supplies to complete the reinforcing steel cages for the vertical bridge columns.

Plaintiffs' decedent was employed by PCS. MCM contends that
plaintiffs' decedent was killed instantly when decedent's PCS foreman,
Rex Kamoss, disconnected one of four guy wires which had been installed
to stabilize a column of steel rebar, while plaintiffs' decedent was on
the column, killing him instantly. MCM asserts that no one
at MCM told Kamoss to disconnect any of the guy wires.
The Plantiff's alleged
MCM was to provide all the equipment, hoisting and engineering, including the guy wires used to secure the columns. MCM's guy wire plan was defective, which caused the incident. Plaintiffs assert defendant created the dangerous condition (twist) in the column, imposing a duty upon MCM to remedy the same. MCM negligently controlled PCS' work, as it was responsible for providing equipment, including hoisting, for PCS activities on the column, and negligently failed to provide a crane when it was necessary to perform the work safely.