Hacker Creek Cleanup Continues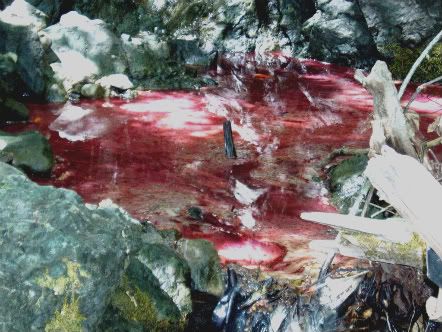 Red Diesel in Hacker Creek soon after spill was discovered
"I don't care what people do but when their actions have consequences, sometimes we have to put our foot down," says Erik Nielsen, Project Hydrologist of SHN Consulting that is working for Northcoast Environmental Construction on the Hacker Creek diesel spill. The overflow of diesel at a suspected indoor marijuana grow has incurred thousands of dollars in cleanup costs in an attempt to stop any further environmental damage.
The damage has gone beyond the property boundaries. Tryphena Lewis, property owner downstream from the spill says that although her renters have seen some insects in the creek the "frogs are all gone." Just recently though a few yellow legged frogs have been spotted by the ecologist working on the site.
The first piles of contaminated soil from Hacker Creek.
The cleanup crew has not only excavated 80 cubic yards of contaminated soil which will be hauled to Red Bluff for bio-remediation but they have also dug a trench below the spill and flushed the area with water–hoping to, as Nielsen said, "get as much of the diesel as we can." Some of the flushed diesel came out into the creek but the "trench eventually worked and the last flush of Friday [the 6th of June] and Monday [the 9th] were clear."
In fact, Bonnie Rolandelli explains that, as of June 20th, Station 2, 100 yards down Hacker Creek, was now showing as a "non-detec" for diesel. Jim Crook, part owner of Northcoast Environmental Construction says that "everything is looking really good." They've been replacing the absorbent pads until now "there is hardly any odor in the creek." Hopefully, the cleanup should be through soon. Checks will have to be made weekly, especially after the rains come.
Rollandelli worries that downstream users could be in for "a horrible surprise" if the winter rains flush any hidden diesel back into the creek. "They may not see it or smell it, [but] they may taste it." According to her, the concentration at this point isn't likely to make them ill. It is "nasty but not deadly."
Officials seem to believe though that the majority of the diesel has been removed. However, the contractor Jim Crook and the hydrologist, Erik Neilsen, are quick to point out that placing a diesel tank that near a waterway is extremely dangerous and should never be done. Diesel that gets into "waterways [is] the hardest to cleanup."
————–
PHOTOS accompanying post were taken by employees of Humboldt County, the North Coast Regional Water Quality Control Board and the consultant on Hacker Creek. They were provided me by Bonnie Rolandelli of though Bonnie Rolandelli of the North Coast Regional Water Quality Control Board.
Thank you.