Hacker Creek Owner In Thailand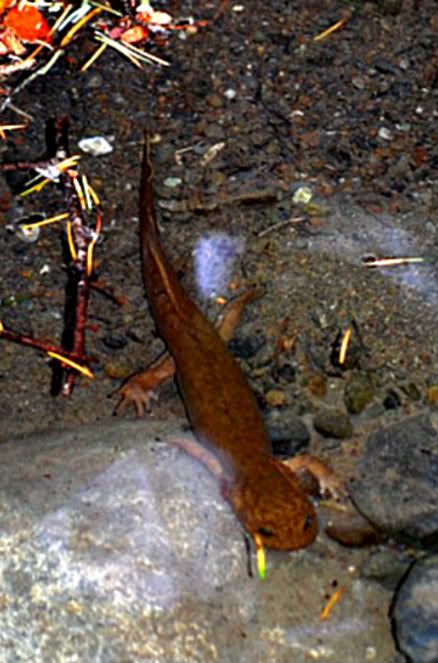 Pacific Giant Salamander under diesel sheen below the Hacker Creek Spill
Updating the diesel spill found at the site of an alleged marijuana grow, George Rolff, Country Real Estate agent, tells me that the property is "95 % clean–almost everything is out of the creek." As the agent for the property, he has shown the place to 3 or 4 potential buyers. According to him, the property is a "beautiful piece of land–great spring, nice pond." He explains that in spite of the market not being"very good right now," he is fairly hopeful of finding a purchaser.
"Not only is finding a good buyer important for the current property owner but it is Important to get good neighbors in there for the community."
Rolff explains that the present owner is currently in Thailand getting medical attention. Apparently, he has had a series of small strokes probably related to the stress of the spill. Rolf says that the owner "can't afford medical attention here" and has gone back to his wife's home country in order to get the help he needs. Rolff goes on to assert that the owner is "in touch with all authorities and totally committed to paying for the cleanup."
Jim Crook of Northcoast Environmental Construction says cautiously that he is "still hopeful" about being paid by the owner who he has been in contact with in Thailand.