Water Quality Control says Hacker Creek Cleanup Better Than Expected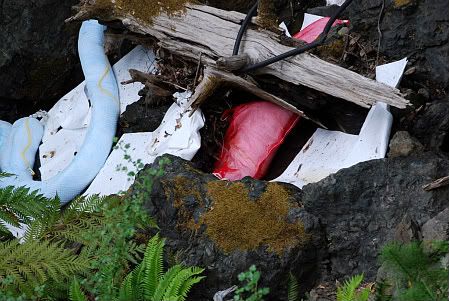 Hacker Creek a week and a half ago
The Hacker Creek diesel spill which occurred several weeks ago at the site of an alleged indoor marijuana grow is still being mopped up by North Coast Environmental Construction. According to Dave Evans, Division Chief for the North Coast Regional Water Quality Control Board and Bonnie Rolandelli, Engineering Geologist, who both contacted me yesterday, "This spill is going better than most. We've got a contractor in there taking on responsibility."
Apparently, on most spills at indoor grows, finding someone to pay for damages is difficult. The contractor must get costs from the state which is notoriously strapped for money but, in this case, North Coast Environmental has been working with the owner and is able to do an in depth cleanup. Evans adds, "Each spill takes on a life of its own and you learn from it. The owner has responded to so many he knows what to do."
Anonymous Tipster is a Hero
Rolandelli, who was up here from her office in Santa Rosa last week, added "This is a beautiful place . . It was lucky we caught it so soon. .." When asked if the anonymous tipster had been helpful, she responded enthusiastically, "Oh my gosh, they saved the area. They don't know how much of a hero they are. This could have gone to Salmon Creek. I'm very glad they called."
Unusually Large Number of Spills this Year

Evans makes clear that though there have been an unusually large amount of spills in the region so far this year, "This one takes the cake. The amount of gallons released was much larger than any other but the one on the Smith River."
The wild land with its unique flora and fauna is slowly returning to its pre-spill state. "The workers were telling me," Rolandelli says, "that there is a nesting turkey below the house…And [they] can hear the pair of rare peregrine falcons that nest [above the spill on Goat Rock] call out to each other."
But there is still much to do. Recently, the cleanup crew has been digging a trench at the behest of SHN headquartered in Eureka, a consulting engineering and geological firm (mistakenly named as FAN before on this blog). The idea is to dig a ditch below the spill site but above the creek. Then flush the spill site with water forcing much of the remaining diesel out of the fractured bedrock and into the trench. There the fuel can be removed with filters, etc.
The digging should be done within weeks. The current plan is also to take the contaminated dirt to Red Bluff with Ben's Truck and Equipment there it will be treated with bacteria which will break down the diesel and heal the soil. The other normal treatment is to take the soil to an aggregate plant and burn it.
Even after the soil is removed, there must still be tests taken once the rains come again. Evans explains, "Someone has to take more samples because the creek is going to rise." In turn, this will wash more diesel into the water.