In the Beginning
Thinning the Grapes
Anyone who has a homestead knows how before you can begin the project you want to do, there are a gazillion projects you need to finish first. Want to plant the bush you just bought? First you have to fix the handle on the shovel–that requires that you clean the shop, which requires that you empty the vacuum bag, etc. This can all be frustrating.
But, my father-in-law instead of running from these complications, embraces them.
With each step of his life, he asks, not how he can get to the final task but instead how he can start at the beginning and make each step his own.
When he wants wine, he grows grapes. When he wants clean clothes,
he washes them in a hand cranked machine.
When he wants tomatoes in winter, he builds a glorious greenhouse. The other day, he wanted sausage and invited us to help. He butchered the day before we got there and had the hide already stretched to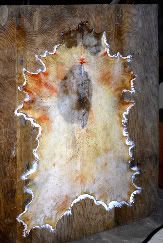 make a guitar case for the handmade guitar he created last winter.
He and my husband took apart the goat.
We chopped the meat, ground it,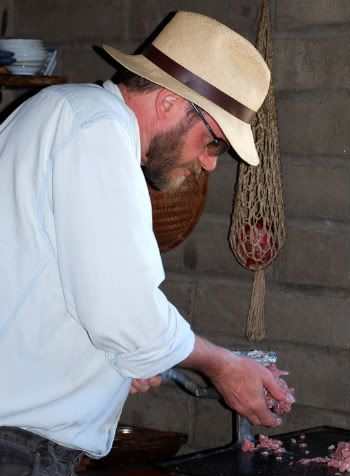 and added salt, pepper, and fresh sage grown in the greenhouse.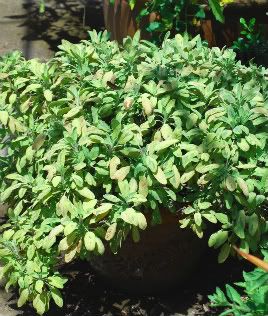 Then, we added a little rendered pig fat for flavoring (note the wood fire cookstove.)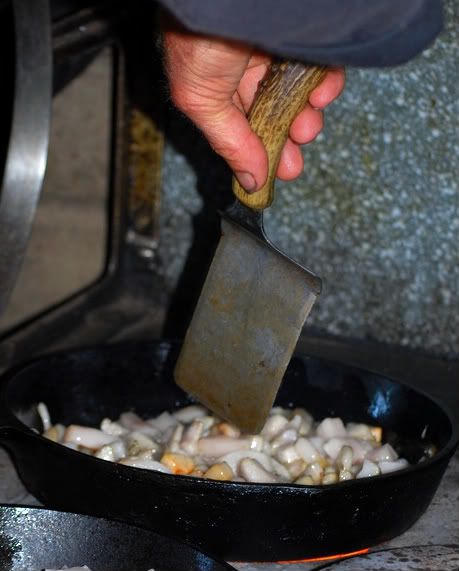 We packed the sausage in jars and have several months worth of breakfast meat. All for an afternoon, or two, or–if you count the time to chop the
wood for the fire, build the greenhouse to grow the sage, and the knowledge on how to butcher the little goat–a lifetime.
Oddly, instead of the frustrating endless work of a homestead, somehow the day passed like a meditation.