Working Together Ties a Community Together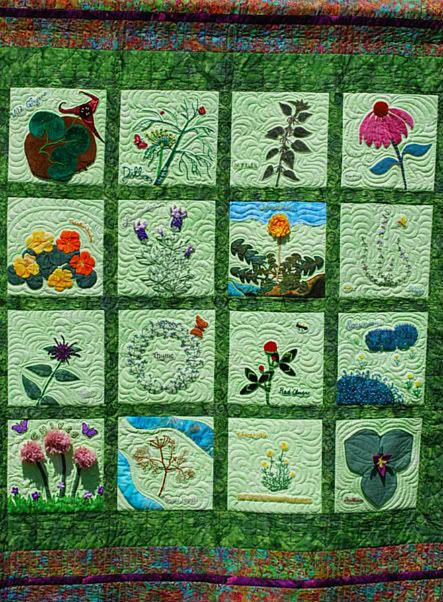 Flowering Herb Quilt
For over 30 years the women (and sometimes men) of Salmon Creek have created a practical fabric art, first for each other then as a means of raising money for various community needs. I became involved when my first son was given a beautiful baby quilt as a means of welcoming both him into the world and me into the adult Salmon Creek neighborhood. Women that I had barely nodded to made squares along with my mother and her best friend. The interweaving of love and acceptance meant and still means more than can be expressed in words.
As each child has been born into the community, the small scraps of many different fabrics sewn together with colored threads has come to express physically the emotional tie we feel to each other in spite of our many differences.
Around 1996, Gail Crosby and I were searching for a way to raise money for our small community school. Other fundraising quilts had been done with one person creating one quilt. While Gail's capable hands could have made the quilt alone, we didn't want to burden one person and, in the baby quilts we had a pattern for making art as community. So we began–first with quilting Harley Run tshirts then with creating our own squares. And today, the quilts are one of the school's most successful fundraisers. We do 4 a year. And, in the case of our neighbors needing us or having a child, we add more.
Above is the latest quilt. We are selling tickets at the Summer Art's Faire. If you are around, be sure to stop by and see how beautiful it is. The photo does not do it justice.  I showed my square before the quilting here. Thank you, Dana for doing such an incredible job of designing it. Starting at the upper left the creators of each square are from left to right
Shanna Archibald
Molly Sinoway
Yoga teacher, Terri (I can't remember her last name right now. Somebody help!)
Tam Moreland
2nd row
Danielle Newman
Cory Olinger (the teacher)
Sherri Nelson
Me
3rd row
Jen Shipman
Shamira (Went to school at Salmon Creek–with Toby–Help!)
Dana Bloomer
Ann Michelini
4th Row
Julie Ann (From down in Swinnockville–Help!)
Becky Crossland
Jean Kullman
Darcy Bell