The Lusty Lady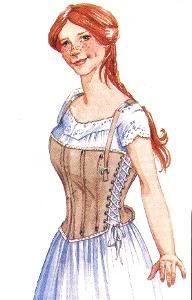 Although tales of hollow voices where no one walks and cold fingers trailing up the spine when no one is behind you send goose bumps racing, not all ghosts are scary. Some apparently have another purpose.
In the small hamlet of Phillipsville, just up the road from the old Sawblade Tavern and down the road from the Deer Horn Lodge is a ramshackle but charming old building, The Riverwood Inn. The downstairs is a wonderful country neighborhood bar connected to a tiny restaurant that serves delicious Mexican food.
Upstairs used to be empty most of the time. The current owner made the area into lovely rooms. She claims that a male traveler stayed behind as a ghost but I heard that a woman walks up there. I was told you can hear her husky laughter and teasing voice. No one is scared of her.
However,I've heard that a woman and man better really like each other before they head upstairs alone. They say that the place used to be a brothel and the ghost, a madam there.
I don't know whether it's true but. . .
Once my husband and I slipped upstairs together. All by our lonesome.
He's pretty urgent about going back.
________________
Photo: A really wonderful site for costumes.