Trash Talk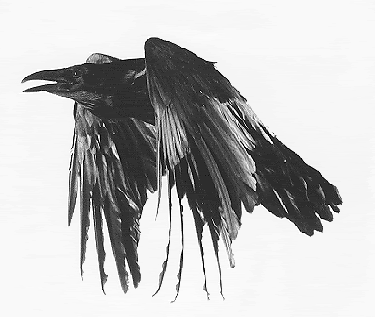 A swirl of ravens hung in the sky like a smudge of oily, noisy smoke. They dodged the greasy smog of burning tires to land amidst the hellish landscape of scattered fires and battered refrigerators. There, they would fight each other for scraps of rotting meat and bits of bright glass.
Above, between the scattered debris of lost and flapping garbage, my father would back the yellow Lark Studebaker towards the gaping maw which marked the beginning of our town's dump. Always, he would pause before gunning the engine and racing backwards towards the unbearably abrupt end of the earth. He would leer over the dark seats at my brother and I, and muse out loud about "that poor fellow" who hadn't managed to stop in time and whose battered car shot over the edge and off. . . out…out into emptiness.
"You can still see the battered car down there. It took them days to get those two little kids out of the back seat–one of them lived nearly the whole time. . . ."
Sometimes, in my dreams, I ride the skies with the ravens. Above the sharp precipice of the dump, I lose my ability to fly, tumbling down screaming into the eerie elephantine smoke and onto the heaps of twisted metal and broken glass. A single piece of heavy equipment bears down on me, pushing mounds of dirt and rotting things in front of it. It shuts off and, in the silence, the last thing I see is a tattered black plastic bag lurching sickly along the ground blindly groping for my face.
Then the ravens scream again. . .
My vision of hell was formed at the Garberville Dump. Sometimes the good old days weren't so good.
__________________________________
Tip of the hat to Ernie and his readers (see the comments in this post). They pushed me into writing this post that had been haunting me for a long time.
Photo from a book by David Goodnow, an amazing wildlife photographer: How Birds fly.