A Martial Art for Everybody: Split Second Survival, Using your Body to Defend Yourself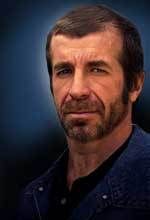 Larry Wick
Split Second Survival
Master in Tang Soo Do
Although my blog's title uses the term black belt, I don't
often refer to my martial arts training
. I love it. I'm passionate about how it has changed my life. But I'm shy about my skills.
I'm not Bruce Lee or Chuck Norris
or even a reasonable facsimile thereof. I do instruct but mostly small children. Only occasionally do I teach an adult or an advanced class. So I don't feel qualified to speak about martial arts.However, I'm going to break my silence to talk about an extraordinary (and fun) instructor, Master Larry Wick who will be coming to Southern Humboldt from his home in Alaska on Feb. 22 and 23. You don't need to have any prior instruction in martial arts to learn from him.
He has been here several times before and he will take your breath away. He is a Master in Tang Soo Do, the style I practice but he also teaches a different style he has created–called Split Second Survival. He teaches these same skills to bodyguards, the FBI, and police officers. The online zine, The Martialist, raves about his program.
Here is a video in which Master Wick talks about his knife defense techniques. I'm having bandwidth issues and wasn't able to watch but I'm sure he is as funny and informative as usual.
Friday night's session will center around Body Logic and how that can be used for the most basic defense techniques without injuring the attacker (a teacher might want to use these with children who occasionally have violent episodes) or for helping elderly people move about safely.
Saturday's session on Split Second Survival provides simple intelligent techniques that anybody can use to defend themselves as well as some incredible demonstrations of how someone who is advanced in these techniques can defend against 5 or more attackers. This is not, strictly speaking Martial Art in the sense of hand to hand combat but it is using your body to defend yourself so I still call it Martial Art.
Remember, you do not have to have ever had any training in martial arts to benefit from these classes! You will enjoy yourself. My husband and I had so much fun at the last class, we are calling the Saturday session 'our Valentine's date!'
The sessions are offered at Dragon Heart Tang Soo Do in the Meadows Business Park Friday, Feb. 22 and Saturday, Feb. 23 (9 am-6pm). If you pre-register before Friday the 15th, the cost is
$50 for Friday only
$100 Saturday only
$150 both days
Late Registration"
$70 for Friday
$130 for Saturday
The classes aren't cheap but they are worth every cent.
If you have any questions, call 923-2886 or 498-3546.