How Research Nerds Spend Their Not-so-free Time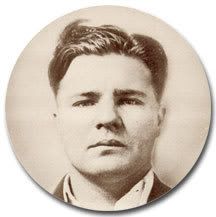 The story of Pretty Boy Floyd and fellow outlaw, George Birdwell captured the country's imagination in the 1930's. One can see why when tales like the following circulated.
"[Floyd, known as Choc,] was so well liked that when he decided to knock over the bank in his own home town, Sallisaw, he informed his family and neighbors in advance. Kids, mothers, fathers, aunts and uncles, those on scooters and on walking canes turned out in a picnic mood and sat across the street under the shade of the boardwalk to view the action. Among these was Choc's grandfather. The bank president thought Choc was putting everybody on until his car pulled up out front the bank to the cheers of the spectators. "No offense," he told the surprised gentleman inside, "but, hell, I'm sure you wouldn't mind making a little contribution to the community.'"
Stories were told and songs were sung, like this one by Woodie Guthrie. In spite of knowing that the tale of Pretty Boy and George hides the ugly reality of men killed and tears shed, I can't help be intrigued by an anecdote by my grandfather. He told in his life story how he once met Pretty Boy Floyd and his fellow outlaw, George Birdwell. I decided to do a little research. Of course, I didn't expect to find a smoking gun but I spent a couple hours investigating to see what I could corroborate.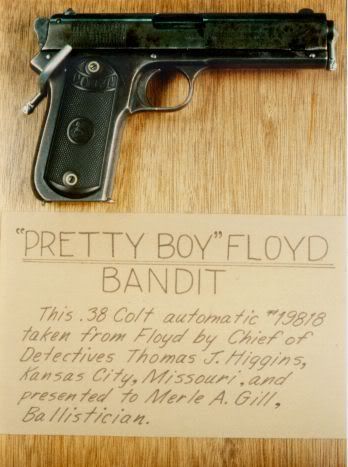 Click to see a Gallery of Outlaw Paraphernalia
My grandfather relates that he met "Charlie Floyd" and "Charlie Birdwell." Whether this was a slip of the tongue or true misremembering or lack of actual knowledge, I don't know but Pretty Boy Floyd's fellow outlaw's actual name was George Birdwell.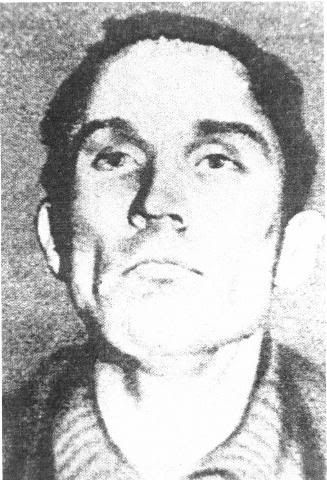 Grandpa asserts that "Birdwell was killed the next day robbing a bank in Bowlegs, Oklahoma." Birdwell was killed robbing a bank but the town (a "colored" town, as Grandpa duly noted) was actually called Boley and there is an interesting account here. Grandpa says that his dad and he walked over to Fred Argo's place where they met the two outlaws. While I can find my grandfather's census records for 1930 in ancestry.com, there are no near neighbors named Argo. However, anyone who researches census records knows they are far from perfect and people were often missed. The name Argo is fairly uncommon and there are two families of Argos two townships over so this part of the story is somewhat tenuously supported.
Next I turned to where Birdwell was supposed to have been before the robbery. All accounts place him eating breakfast the morning of the robbery at a farmer's who lived not far from Birdwell's home. So where did Birdwell live? I check the census records and find him in 1930 in Econtuchka, Seminole, OK. How far apart are my grandfather's and Birdwell's homes? And where is Boley in relation to them? Using Google Map I determined they are about 105 miles apart.
Ahh, now the story unravels a little. It seems unlikely that the Birdwell would drive with Floyd 105 miles, turn around to return home, leave Floyd somewhere, and set out the next day to rob a bank another 60 miles in the other direction with 2 unrelated bank robbers. This isn't to say it couldn't have happened but it seems unlikely. More probably, Grandpa met the pair somewhere earlier and conflated the death of Birdwell with the experience.
The Ada Weekly News relates that the pair traveled together in September. "Charles "Pretty Boy" Floyd and George Birdwell, outlaws long sought in connection with bank robberies in Eastern Oklahoma, have been traveling at night in this section. …[T]he outlaws … were said to be traveling in a yellow coupe with a black top."
Check here for an interesting article about a car Floyd ditched after it was riddled with bullets.
It is possible that Grandpa saw them a month or two earlier and compressed the time in his mind (he wouldn't even have been 12 at the time.)
Or it is possible he made the story up? So unless someone has a photo of a handsome Okie boy shaking the hand of George Birdwell on November 22, 1932, I guess I'll never know.