Fagin's Fear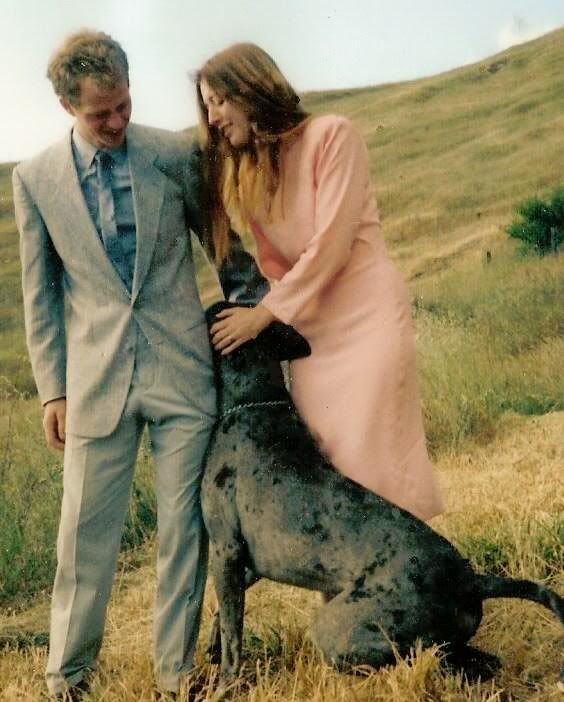 Luckily English or History majors, like the rest of the world, have children who insist on calling our pets Fluffy and Spot. Otherwise, we would foist witty titles on our animals like Chairman Meow and Lady Mac-breath ("Out, damn'd Spot! Out, I say!") Before children, I had a handsome Great Dane whom I refrained from calling Hamlet only to succumb to calling Fagin after one of my favorite Dickens' characters.
Extremely large, even for his breed, his fiercely wagging tail frequently sent any and all items on the kitchen table scattering for cover. After viewing the horizontal bruises across my thighs, my doctor once asked in a concerned voice, if I wasn't letting the bondage and discipline games get out of hand. My explanation met with some skepticism. To this day I'm sure he thinks I had a vicious sex partner. But anyone who had actually met Fagin knew the damage his tail could do. They also soon learned what a coward he was.
His size and booming bark disguised his true nature. At the time, I was going to college and living in the small city of Eureka. We would head out at 5 in the morning to walk along the bay as the sun came up. The Old Town area we passed though is notorious for the large numbers of homeless and drug addicts that wander it. Fagin's merle, a spotted lavender gray (honestly he had a pale violet hue to his coat), blended into the darkness. Several times, large hulking fellows would see me, a woman in her twenties, apparently walking alone and cross the street in an ominous manner. Fagin always barked once—a Hound of Baskerville hollow hacking sound that sent them scurrying for the far side of the road. One verbally, though perhaps not otherwise, honest fellow even shook his head chuckling, "Lordy, girl, I figured I'd shake you up some and now my heart is beating faster than my hands are trembling."
But, what he couldn't see in the darkness was how Fagin was pressed against my thighs, wagging his tail, and leaving bruises on my backside.
I had complained about Fagin's cowardice to friends and they reassured me, that should I actually be attacked, he would leap to my defense. My husband and I decided to put that to the test.
On the weekends, and whenever we could make time, we came home to the hills. Our cabin couldn't be driven to and the groceries and laundry had to be hauled up and down a steep path with rocks and tree roots. On the test day, I went into the cabin with the dog while my husband did some work on the driveway. When he finished, he started down the path making ungodly noises—growling, snarling, and hooting.
"Fagin, what's that?" I squeaked in pretended fear.
Fagin began pacing and whimpering. His eyes actually darted from side to side seeking shelter. At first, he pressed against me but I pretended panic. "Fagin, Fagin help me. It's going to get us," I squealed in a high voice.
I had a moment of hope as he stared hard at the door my husband was fast approaching. "AAARRRRrrrf." He howled. But my husband roared and began fumbling at the wooden latch.
Fagin squealed, tucked his tail between his legs, nearly bowled me over in his rush past me, leapt on the couch, stuck his head under the cushion, and cried, "Aww, awwooo, awooo."
I never went walking in Old Town after dark again.