Gassing about Christmas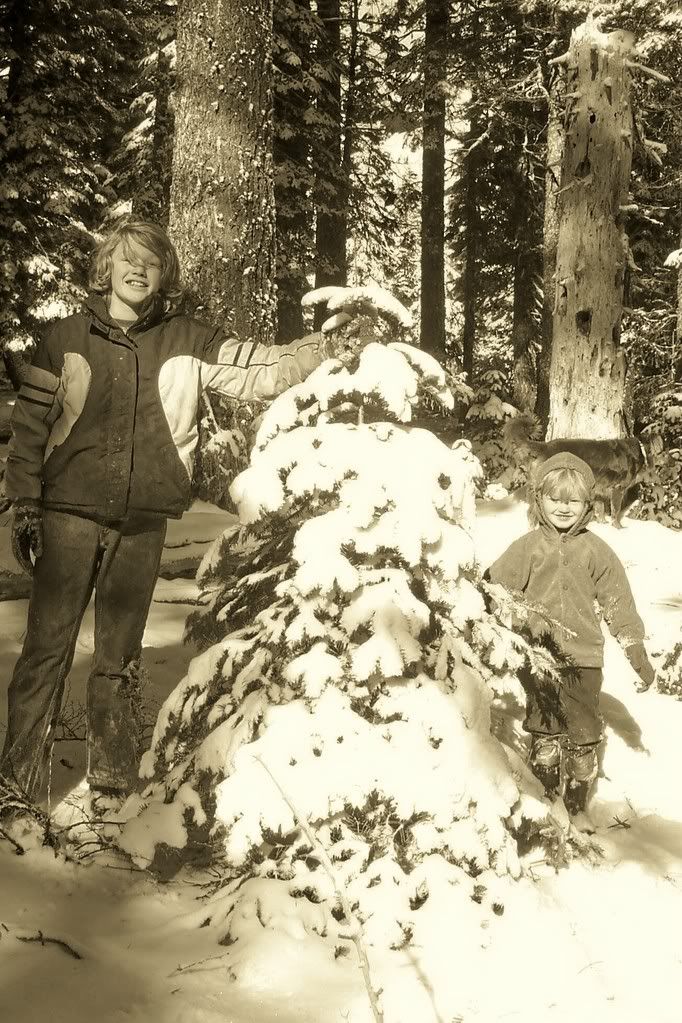 Most years Christmas comes with a hazy glow but some years the Christmas spark just won't ignite. A few years ago I remember whining (or gassing as a friend calls it)…
"We had to go Christmas tree hunting again. I wish we could just buy the dang thing like normal people. But…"
It's a tradition and for at least twenty-five years we've done it with Mom and Dad and a bunch of other family and so called friends (although I think people who shove snow down your back make somewhat dubious pals), so I suppose we couldn't skip it. But about the same things happened this year as they did last year. Oh, there were variations on the theme but it was basically the same old event.
I always get grumpy as we get ready to go. This year wasn't much of an exception. The littlest, being only 3, slept in until we had to leave so we had to put him in his car seat in his pajamas. At which point, he woke up hostile and complained that he didn't want to go because "Christmas is stupid." Secretly I agree with him. Nothing is worth this much trouble. Can't I stay home and eat the lemon poppy seed muffins I made?
By the time we get to town, I have started relaxing. The two oldest put me in a good mood by being disappointed that I forgot the Christmas music. Of course, my husband will attempt to provide it–which is a bit scary and leads to some hilarious and slightly scandalous versions. I remember a terrifyingly distorted version of 'The Little Drummer Boy' with a chorus of "A smell I smelled from him, parump pa pum pum. It came from deep within his rump a bum bum, rump a bum bum, rump a bum bum."
We hope the littlest does not repeat this song to Grandma or I really will wish I'd stayed home.
We actually get to the spot where we are supposed to meet before everyone else. We plan to gloat and act superior when they arrive. This plan, of course, is ruined by my discovering, after the skinny family members lope off to buy hot chocolate, that someone (namely me) forgot to pack the littlest one's shoes. Where do you find shoes at 9am on a Saturday in a town so small they don't even have a stoplight? Fortunately, there is an open store and all is saved except my reputation. Everyone gloats at my expense. My mood is black. I should have stayed home and ate muffins.
Finally we set off. Everyone in our car is drinking hot chocolate except me. I can't. I'm too fat. Bah Humbug. Eventually, some of them (the skinny ones) decide they have had enough and pass me the dregs to pour out the window. I attempt to do this…. Now the white angora sweater I'm wearing has chocolate leopard spots all over the right arm. Note to self: Next time pour hot chocolate on crotch of spouse. Then I will be laughing like a hyena instead of him. This thought makes me smile and instills a good mood.
When we get to the forest service road, the trees on either side look like Christmas Magic. Every single one seems perfect. The air is incredibly clean. The sun is glistening off of every facet of each flake of snow on every tree. Of course, as soon as we shake the snow off, we find a Charlie Brown Christmas tree but it doesn't seem to matter any more. We find a fallen log with glistening sap sickles that the middle child swears taste delicious. I hold out for poppyseed muffins.
After a delicious lunch of homemade chilli (don't even think about the Little Drummer Boy's Parump a Bum Bum), we take the annual Christmas picture. And, as we were leaving, I asked the youngest, "Did you have a fun day?" He looked at me and by his tired smile I could see the exhaustion of a boy who had seen and done it all. "Yep, Christmas was fun."
He hasn't yet figured out that there is more to Christmas than the tree hunt but he's got the first part of it. The part where you do the same thing every year and it should be dreadful and it's absolutely wonderful instead. Poppy seed muffins do taste better when they've been chilled in mountain air and eating chili is the perfect prerequisite to singing, "A smell I smelled from him, parump pa pum pum. It came from deep within his rump a bum bum, rump a bum bum, rump a bum bum."
What better way to ignite the Christmas flame than with a bit of Christmas gas?
May your season be merry and your Little Drummer Boys eat plenty of chili.